KEYNOTE & FORUMS
Further information on forums and workshops will be released soon.
---
Keynote Speaker:
Stephen Page - Artistic Director , Bangarra Dance Theatre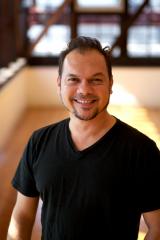 Stephen Page, Artistic Director of Bangarra Dance Theatre, is the Keynote Speaker for APAM 2012. As a performer, choreographer and director of dance for more than 25 years, Stephen is nationally and internationally respected, making him ideal for the role. His stellar career has had a significant influence on the Australian arts industry.

Stephen addressed an audience of more than 600 Australian and international delegates at the Festival Theatre on Sunday 26 February.

READ STEPHEN'S SPEECH HERE
---
Date: Sunday 26 February
Time: 03:00 PM - 03:50 PM
---
INTERNATIONAL ROUND ROBIN: Country Snapshots
A fun and informal opportunity for delegates to meet early in the week with 19 tables each hosted by representatives from a specific region or focus area. During the 3 x 15 minute sessions, delegates have the opportunity to visit 3 tables each to learn about touring in their regions of interest.
SIGN UP AT THE HELP DESK DURING APAM

Discussion topics include: Belgium, China, Circus & Street Arts, Canadian Dance, Canadian Theatre, Children's Theatre, Eastern Europe & Balkans, European Dance, Germany, Korea, Ireland, New Zealand, South America, Singapore, Taiwan, UK & Ireland Dance, UK Theatre, US Dance, US Theatre
Facilitator:


MC David Sefton, 2013 Artistic Director, Adelaide Festival

Date: Sunday 26 February
Time: 04:30 PM - 05:30 PM
Venue: Festival Theatre Stage
---
APACA, PATA & TNV's NATIONAL TOURING WORKSHOP & LUNCH - EVENT BOOKED OUT
ALL PLACES HAVE NOW BEEN FILLED FOR THIS WORKSHOP.

Presented by the Australian Performing Arts Centres Association [APACA], the Performing Arts Touring Alliance [PATA] and Theatre Network Victoria [TNV], in association with APAM.
The last year has seen considerable action in the Australian Performing Arts Touring Landscape, including:
·
The growth of the Performing Arts Touring Alliance as the national touring peak body
·
The emergence of Theatre Network Australia.
·
The development of Australia's second only National Cultural Policy.
·
The development of a National Touring Framework.
This workshop provides an opportunity for the diverse stakeholders in the sector to take stock of the changes, develop their understanding of the existing touring systems and provide input into ways to improve these systems.
A brief discussion paper will be provided to participants prior to the workshop and preparation is required.

EVENT BOOKED OUT.
Speakers:


Nicole Beyer, Director, Theatre Network Victoria
Nicole Beyer has been Director of TNV, a new service organisation for theatre, since it was established in May 2009. Her past roles include General Manager, Back To Back Theatre; Executive Officer, Young People and the Arts Australia and Executive Director, Arts Access Victoria. She has worked as a consultant, worked for government, and chaired many arts boards, including Arts Access Australia, Geelong Arts Alliance, Snuff Puppets, The Village Festival and the Arts Industry Council (Vic). As Director of TNV, Nicole produces the biennial Australian Theatre Forum, and is establishing Theatre Network Australia, a national network for the sector.

Bronwyn Edinger, General Manager, City Recital Hall Angel Place.
Bronwyn has a background in venue management, touring and producing, and undertook the Review into Performing Arts Touring for Arts NSW in 2011. A past president of APACA (Australian Performing Arts Centres Association) and INAPAC (Incorporation of ACT and NSW Performing Arts Centres), she has been involved in many industry committees including the inaugural committee of the Performing Arts Touring Alliance, appointments to funding panels for Arts NSW and the Playing Australia committee. Other roles include General Manager of Arts On Tour NSW, Director of Illawarra Performing Arts Centre, General Manager of Black Swan Theatre Company and in the mid nineties she created Perth Theatre Company with Alan Becher.

Rick Heath, Director Push Management, Consultant for National Touring Framework.

Rick has worked in the performing arts industry across Australia for over 20 years. He is the Director of Push Management, a strategy, planning and project management consultancy for the arts industry. Rick has worked extensively in both production and administration for many arts companies throughout Australia. He has been intimately involved in the development of national touring through his work as a 'Blue Heeler', Touring Consultant at Arts on Tour NSW, Executive Director of APACA and as a founding member of the Performing Arts Touring Alliance. Rick is currently contracted by the Australia Council to develop the National Touring Framework in partnership with Harley Stumm.


Greg Randall, Executive Officer, Performing Arts Touring Alliance.

As a freelance Arts Manager, Greg Randall fills the role of Executive Officer for the Performing Arts Touring Alliance. Previously Director of Programming at the Arts Centre, Melbourne, Greg lead the team that generated the Centre's own programming as well as working with its key presenting partners to ensure it had a creative, balanced and innovative program throughout the year. Prior to starting with the Victorian Arts Centre in 2000 he was the Director of Sydney's highly regarded Glen Street Theatre, Regional Arts Manager for the South Australian Country Arts Trust and founding Director of Arts on Tour - New South Wales in Sydney. He has served on numerous arts and community management boards.

Harley Stumm, Independent Producer.
Harley is an independent producer and consultant working in contemporary performing arts. He is establishing a new producing practice and is also currently undertaking the National Touring Framework research and consultation project for the Australia Council's Market Development Division, with colleague Rick Heath. Previously, he was Producer at Performing Lines 2005-11, where he managed the Mobile States contemporary performance touring initiative. In that time, he produced more than a dozen national tours of artists and companies such as Dancenorth, Splintergroup, Lucy Guerin, Tanja Liedtke, Chamber Made, version 1.0, My Darling Patricia, William Yang, and Branch Nebula, and the multi-event touring mini-festivals of performance. Previously, he was Executive Producer at Sidney Myer Award winning company Urban Theatre Projects 1995-2003, producing more than 20 new works.

Date: Monday 27 February
Time: 12:50 PM - 02:20 PM
Venue: Lyrics
---
INTERNATIONAL TOURING INFORMATION SESSIONS
Delegates are invited to sign up at the Help Desk for the session of most interest to them for this informative hour on international touring.

AUSTRADE EXPORT MARKET DEVELOPMENT GRANTS (EMDG)
Speaker: Rob Harker (EMDG State Manager, South Australia)
Venue: Quartet Suite 3.30pm-4pm
Join Rob for an introductory outline of the Export Market Development Grant scheme. He will also be available for a short time after the session for further discussion if required. It will be of value to browse the EMDG website prior to this session. Visit www.austrade.gov.au/what-is-EMDG/default.aspx
EXPORT SOLUTIONS BRIEFING ON EMDG
Speakers: Sue Arlidge & Stuart Mitchell (Export Solutions)
Venue: John Bishop Room 4pm - 4.30pm
Export Solutions is Australia's largest consulting firm assisting companies with lodgments of Export Market Development Grants. Come along to this session to hear how their creative industries experts may be able to assist you on a successful fee basis - no grant, no fee!
TOURING TO THE UNITED STATES: NAPAMA* VISA AND TAX UPDATES
Speaker: Laura Colby (Elsie Management, USA)
Venue: Banquet Room
Curious to hear about the most recent 'improvements' when filing for a US work visa? Need a review of best practices in order to meet your US tax obligations? Attend this session for updates and an overview.
*North American Performing Arts Managers & Agents. Visit www.napama.org

WORKING WITH DFAT ON INTERNATIONAL CULTURAL DIPLOMACY AND ENGAGEMENT
Speaker: Tanya Bennett (Director, Cultural Diplomacy Section, DFAT)
Venue: Banquet Room
This session will provide delegates with an understanding on how Department of Foreign Affairs and Trade (DFAT) and Australia's diplomatic network supports and fosters active cultural engagement between Australia and the world. It will include practical examples of cultural diplomacy and the outcomes in terms of building people-to-people links and genuine collaborations.

EXPORT BASICS FOR BEGINNER PRODUCERS
Facilitator: Suzanne Daley (Live Performance Australia)
Speakers: Teena Munn (Windmill Theatre), Greg Randall (Performing Arts Touring Alliance), Torben Brookman (Adelaide Cabaret Festival)
Venue: Piano Bar
This session is for you if you are starting out in the export game and want to learn the basics of taking your show to the world from experienced buyers and sellers. We'll look at informal and formal pitching, making the most of attending an arts market, building relationships and sealing the deal, the role of agents in the US and touring in Asia.

KEEPING THE SHOW ON THE ROAD: CARING FOR THE ART AND THE ARTIST
Facilitator: Anthony Peluso (Country Arts SA)
Speakers: Dave Brown (Patch Theatre Company), Alice Nash (Back to Back Theatre), Elizabeth Old (Australian Dance Theatre)
Venue: Lyrics
Touring can sound glamorous but beyond the lights of Broadway, there's usually an ensemble of artists who've spent more time in airports than most could bear, been called to a tech rehearsal five minutes after they've landed and then been shuffled off to the next destination before they've even orientated themselves. Come and hear the strategies our panel of touring specialists has adopted to ensure that everyone keeps it together and the work is presented at its best.
Date: Wednesday 29 February
Time: 03:30 PM - 04:30 PM
Venue: Various - Bookings at Help Desk
---
FORUM GAME: So You Think You Can Tour?
Whether you are a presenter or artist, producer or agent, this session is for you.

What are the secrets of a successful international tour? How do you increase your chances of touring success and generate sustained and sustainable touring? What model works best for you? Perhaps it's co-productions, co-commissions or partnerships?
Come along and share your experiences and those of others; we want to hear about it all - the good, the bad and the ugly.
Facilitator:


Sandy Collins (version 1.0 inc.)

with:
Rachael Azzopardi (Sydney Theatre Company)
Jennifer Barry (Footscray Community Arts Centre)
Jason Cross (Insite Arts)

Date: Thursday 1 March
Time: 10:35 AM - 11:35 AM
Venue: Banquet Room